POSTPONED – EMERGE: EMERGE Week Panel
March 3, 2022 at 6:00 pm

-

7:30 pm

Free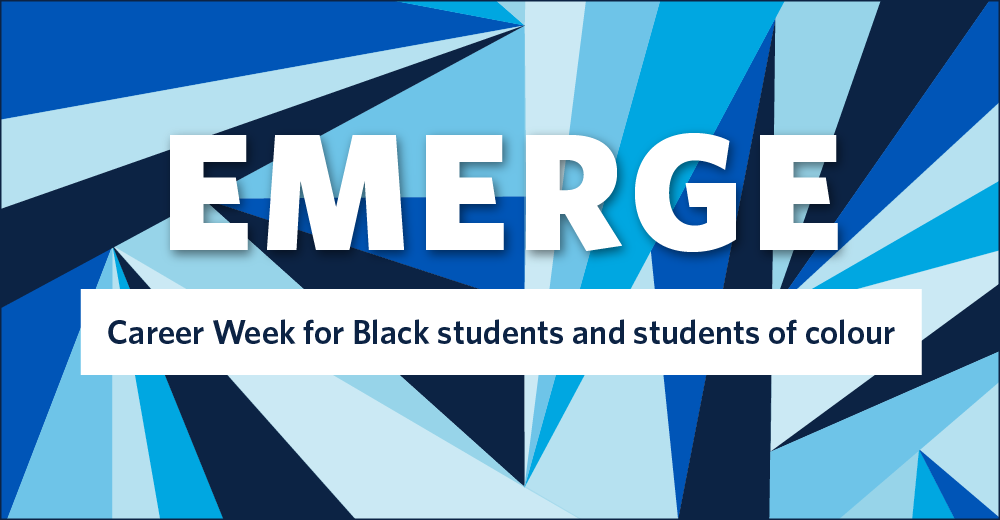 This event has been postponed until further notice.
Hear from a group of panelists as they discuss their career paths, sharing practices and tools that helped them to succeed, and what it takes to overcome barriers in pursuit of personal and professional excellence.
This event will consist of two parts:
 The panel discussion, and
 Informal conversations with alumni and industry partners in breakout rooms.
This event is part of EMERGE, a week-long event featuring different workshops, speakers, coaching sessions, and networking opportunities intended to support Black students and students of colour while they navigate the job market.
The aim of EMERGE is to understand the intricacies of working in the world as a person of colour, and to provide solutions to unique challenges that may present themselves. Join a network of peers and receive targeted guidance about how to emerge and advocate for yourself and others while job hunting.
PANELISTS
Anai Sangrar-Ordonez
Anai's current role is the Managing Director for Partners In Resources. Her personal familial journey as an immigrant to Canada ignited her passion to support the immigrant population. Anai was born in Honduras, however lived most of her childhood in the Middle East, before finally settling in to Canada. This has led her to spend the last 7 years as an immigrant and multi-barrier specialist in the employment sector supporting clients towards reaching their goals of sustainable employment. Anai has a background in International Relations and Management, this enables her to ensure the provision of services to support employers, employees and job seekers from a diversity and inclusion lens. Anai is a Certified Career Development Practitioner, a Certified Career Management Professional and speaks 8 languages, including ASL
Sarah Nhan
Born and raised in Red Deer, Alberta, I saw my hometown grow from a population of about 55 thousand to 75 thousand which initiated my curiosity in civil engineering – how does a city develop the required infrastructure for their growing population? I was always good at mathematics and science, so pursuing an engineering degree seemed like a great fit. As a co-op student at the University of Alberta, I gained exposure to different types of work within my field where I completed my work terms at Al-Terra Engineering, then Alberta Environment (and Parks), and finally at Golder Associates. Luckily for me, Golder loved me enough (and I loved them) to offer me a full-time position after graduation as a geotechnical engineer. I transitioned to their hydrotechnical team about three years later. Throughout my time with them, I had the opportunity to experience some really amazing field adventures, including helicoptering around Nunavut and the Northwest Territories, riding quads through Manitoba, and driving boats on rivers and creeks throughout Alberta. On top of that, I was managing projects, writing technical reports, attending client meetings, and completing various geotechnical and hydrotechnical analyses and modelling. After a few too many Edmonton winters, I moved to Kelowna with my now-husband and had a brief stint at Ecora working as a hydrotechnical engineer, before arriving at UBCO as an Engineering Co-op Coordinator. In this role, I love using my experiences in the industry, and my relationship-building skills to develop opportunities for our co-op students and help my students start their engineering careers.
Raghwa Gopal
Mr. Raghwa Gopal is President and CEO of Innovate BC. Raghwa joined Innovate BC from Accelerate Okanagan (AO), where he was Chief Executive Officer.
A noted entrepreneur with over 30 years of international business experience and a recognized technology background, Raghwa has a deep understanding of business strategy, operational efficiency and organizational alignment.
Raghwa has guest lectured at UBC's Okanagan campus, in the Faculty of Management (Business) and in the School of Arts and Sciences (Computer Science). He was Entrepreneur-in-Residence at Okanagan College School of Business in 2012-2013, was named Honorary Fellow of the College in 2014 and has served as the director of numerous community-based commissions and foundations including the Central Okanagan Economic Development Commission, the Okanagan College Foundation Board, Women's Enterprise Centre, Project Literacy, YMCA and the Okanagan Angel Network of technology entrepreneurs.
Eugene Jehezkiel
Hey everyone! I'm Eugene and I graduated from UBC Okanagan last year, in May 2021, with B.Sc. majoring in Computer Science. Ever since I graduated, I've started building my career by working as a Software Developer at the Royal Bank of Canada (RBC). I work mainly for applications that mainly deal with calculating the risks of running the bank and reporting those generated metrics to the government—all of this to make sure that we're running within the bounds of the legalities.
Looking back to my old self when I was an undergrad, I learned a few things that I found super helpful in advancing my career now.
For one, start networking! Find great, supportive people to help you in your university life—not just academically but mentally too.
For two—if you're a computer science student pursuing developer positions—build personal projects!! I can't emphasize this enough! I remember having to demo my personal project in front of my now-manager during my interview.
Although Indonesia still remains my home home, Canada now becomes my second home. I grew up doing my high school upto second-year of college in Vancouver, BC, and finished the rest of my degree in Kelowna. When I received my offer from RBC, I moved out of Kelowna and started building another "home" in Halifax, NS (yes, that's literally almost the other side of the country!)
Arguably, I've spent about one-third of my life in Canada but I'm still an Indonesian at heart hahaha.
I definitely miss Kelowna for my friends and some good food too! Please let me know if you've found great restaurants around town, I will visit them when I visit Kelowna again ?
Patience Spinoza Okuku (Spino)
Patience Spinoza Okuku (Spino) was born and raised in Uganda before moving to Canada for his post-secondary education. In 2015, Spino received a full-tuition scholarship to study Business Management at the University of British Columbia (UBC). While at UBC, he worked as a Residence Advisor, a Peer leader for Indigenous Summer Camps, a Teaching Assistant for more than 400 students, a Research Assistant, and Vice President Internal of the Students' Union. Additionally, Spino co-founded Age-Link Club which continues to build intergenerational relationships between students and older persons in the City of Kelowna.
Having graduated with Honours from UBC in 2019, Spino enrolled for a Master of Philosophy of Development Studies at the University of Cambridge. Although Spino initially thought that he would be trained to save the world, he has learnt overtime that the world does not need his saving. Rather, the world can save itself if given the chance and encouragement to do so. With his strong education background and social network, Spino decided to return to Uganda and invest his time in another organization he co-founded – The Spinoza Foundation. So far, the organization has positively impacted 63 families of children and youth living with HIV.
Currently, Spino works as a Project Coordinator with the Community Service Learning program at UBC Okanagan where he supports students to find meaningful volunteering opportunities with Non-profit organizations in the community. In addition, Spino is the Executive Director of two Non-profit organizations he has cofounded – Age-Link Society and One Billion Trees Foundation. Age-Link Society (where Age-Link Club UBCO is a university chapter) aims to promote intergenerational friendships across Canada while One Billion Trees Foundation aims to plant one billion trees across the world by 2035.
During his free time, Spino writes and recites poems, performs comedy, and plays monopoly.
Lady Dia
Lady Dia is a Lozi womyn from Bartoseland, though born in Luanshya, Zambia. She is a mother, a wife, and an artist. She studied at UBC-O obtaining an undergraduate degree in Indigenous Studies. Lady Dia, was named The City of Kelowna's Artist in Residence for the year 2021, she focused on true inclusivity and space making for I-BPOC creatives. Through a Telus Storyhive grant Lady Dia produced her first podcast, MOM:ENTS where she focuses on speaking with mother's who are creatives. She is matron of the House of Hope, a space governed by the philosophy of Ubuntu in daily living. This art-centred space explores its practicality in sustaining community through creativity and collaboration. Lady Dia is a founding member of Kinfolk Nation- an African, Caribbean artist collective documenting the experiences and stories of contemporary Africans/ Caribbeans/ Spirits, and the kindred spirits they cross paths with. She is also co-founder of the Africa Ubuntu Association- Okanagan, a not for profit organization that serves to foster a community for Africans, those of African descent and friends of Africa. Lady Dia was co-founder of HEARTH, which was the first Black and Indigenous womyn organization in the Okanagan as well as the first Black and Indigenous student-led initiative in the Okanagan. Lady Dia's website is www.ladydiamelodia.com where you can learn and see more of her and her works.
Photo creditted to Trophy Ewila
Rohma Nawaz
Rohma is a Punjabi woman from Pakistan. She came to Canada as an International student in 2013 to complete a BA in International Relations on the UBC International Leader of Tomorrow Scholarship, and has since immigrated to Canada permanently.
Most of her time in Canada was spent living in the unceded territory of the Syilx Okanagan Nation, and since November 2019 she has been living in Thebacha in Treaty Eight territory (Fort Smith, Northwest territories). After graduating from UBC, Rohma has worked in the sectors of higher education and municipal government, managed an NGO, and is currently employed with the Government of the Northwest Territories.
Education, community building and anti-racism work are her main passions and interests which she pursue through both professional and volunteer avenues.
Emilio Freire Raymond
Emilio was born and raised in Guayaquil, Ecuador. He is expected to graduate from UBC Okanagan with a degree in sociology and a minor in political science in May 2022. He recently completed UBCO's coop program, after working full-time as Project Coordinator at the Global Engagement Office (GEO) for a year. In his role, he led and supported intercultural, settlement, and career-related programs.
He has also worked as orientation leader, teaching assistant, research assistant, and student representative in the UBC Okanagan Students´ Union. He currently works as Intercultural Development Program assistant, facilitating workshops and events that foster intercultural dialogues and promote diversity and inclusion on and off campus. In addition, he sits on the national Immigration, Refugees and Citizenship Canada's Youth Advisory Group, which serves as a forum for engagement between youth and policy-makers on a wide range of immigration issues. Finally, he serves as president of the Latin American Student Organization, planning events and creating spaces to share part of the Latin American culture and reduce stereotypes and discrimination.
Add to your calendar: